BY RAYNE ELLIS Standing back to take in the piece in its entirety, King marched up to one of the nearby suited men, pointed and sputtered, "Hey, look! It's millennial pink!"
A unified shhh indicted her voice, while heads spun and eyes darted. King, stifling nervous laughter, muttered, "I thought everyone knew."
More than simply a color, millennial pink is symbolic. Androgyny, says the New York Magazine. Gender fluidity, says Stylist. Rejection of femininity, proclaims Bustle. "Who cares?" asks the millennial.
A color that's been on the outskirts of pop culture since the early 2000s, the rosy hue termed millennial pink has been in society's subconscious since Kanye West dropped mustard on his millennial pink polo shirt in 2004. In March The Cut, New York magazine's fashion and beauty sector, ran the story on "Why Millennial Pink Refuses to Go Away." Since then, Generation Y media and others have raced to push the most pink-related content into the stratosphere: "12 Foods to Satisfy Your Millennial Pink Tooth," "15 Millennial Pink Nail Polish Options to Consider This Spring," "The Millennial Pink Daybed of Your Dreams." The average 18 to 25-year-old saw headlines like these, and shrugged– "What's the point?"
Hard to ignore because of its presence in pop culture, hints of the pigment have made their way onto countless products with a millennial fan-base: FENTYxPUMA slippers, Adidas Superstars, Glossier makeup packaging, Topshop mannequins, Drake albums. Somehow without announcing its presence outright, this shade of pink sneaked its way from the periphery of pop culture to forefront. Fashion historian and University of Pennsylvania lecturer, Jonathon Square, offered an explanation, "There's a certain visual language that we are all a part of."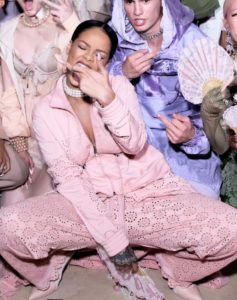 Square said that fashion trends have a snowball effect; the slip dress, unicorn bags, ombré hair, and trench coats all started out on the runway. It starts with a tiny accessory during fashion week, and end up on everyone's pants. "However, some trends are sensitive to attention. The second that something is everywhere, suddenly it's nowhere. It's called jumping the shark. Millennial pink is on its way out," he said.
Beyond anointing it the color du jour, numerous publications have asserted that the shade of pink is a rebellion against overtly feminine Barbie pinks of the past, with Quarts claiming it "reveals society's anxieties about girly stuff" or The Cut calling it the millennial's "genderless mascot." Androgyny and gender neutrality are millennial buzzwords, but Square says the association is a bit of a reach. "Do they really think narcissistic millennials are thinking about this? It's just a hot color."
Stephanie Mao, 20-year-old New York University student by day, Tumblr blogger by night, agreed with Square's assessment saying, "Millennial pink evokes an almost dreamlike quality, is aesthetically appealing, and is very lighthearted and unserious." Which echoes the reason given for Pantone's anointment of rose quartz (millennial pink) as color of the year in 2016. "A color becomes popular because it's symbolic of the age we're living in. These are turbulent times. People are looking for calm," Laurie Pressman, Pantone Color Institute vice president told Bloomberg Businessweek.
Irritated by media's attempt to appeal to gender fluidity, and marketing's tunnel vision on pink, many millennials were quick to mock the moniker; referring to any shade of the rainbow as belonging to Generation Y. Advertising major Shelby King, also peeved at the seemingly random focus on pink, provided a potential explanation, "The other colors that millennials are wearing, like ice blue or lilac, have always been worn by men and women alike. It's not until men start wearing something that it becomes feasible to sell the idea to a wide audience."
Many articles on millennial pink aren't even geared toward millennials. An article in Promo Marketing tells its presumably older readership, "It might be time to think pink." Another one titled "How Can Millennial Pink Help Your Business" by The Center For Generational Kinetics provided a list of ways to market toward millennials, using "their favorite color." So, not powerful enough to have complete autonomy over trends, yet still holding sway, some twenty-somethings say they feel kind of insulted by this presumption by the older generations. King summed this up, "Straight white men are wearing pink, and it's a huge deal? Classic."
The sell-through rate for pink is up 30 percent from last year. Not bad until compared to other trends, like the cold-shoulder top, that has a sell-through rate increase of 120 percent. So the color doesn't truly seem to be that big of a deal monetarily, according to a study done by the data-collecting site Edited. Still, pushing aside the color's actual success rate, it's evident why advertisers want to tap into the color's potential. Whether it's here to stay or not, the number of celebrity influencers wearing the color has great impact. Even if the celebrity is unfamiliar to the millennial, as long as the apparel looks good, or seems like "a proper fit" with the celebrity, the product will be regarded more positively, researcher Karla McCormick found in a study done for the Journal of Retailing and Consumer Services.
Hundreds of photos feature Kim Kardashian, Rihanna, Zendaya, and Gigi Hadid all wearing the color. So, if they are still wearing the shade, can the color die like Square and King suggest?" Mao mused, "Millennial pink is the color of the moment, but moments end."